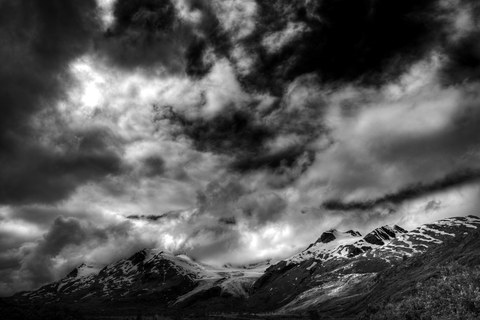 By Jesse Jost
He was a man passionate for God. In his late teens, Charles was rescued from a life of rubbish and filled with the Holy Spirit. His conversion dramatically changed the course of his life. Eager to put his new found faith into practice, Charles poured his life into evangelism. In his early twenties, he became close friends with Billy Graham. They hit the spotlight almost simultaneously. Their sincerity and fervent, yet thoughtful invitations to Christ were an effective combination. Charles' success continued into his thirties. After attending Princeton Seminary, he carried on his evangelistic mission. A sought-after speaker and an able debater with a very compelling personality, he persuaded many to go to the mission field or to attend seminary. He also hosted a weekly show on CBS and was a rising star in the Presbyterian denomination. If you were looking for a hero of the faith, Charles Templeton was your man.
Despite his outward fervor and success, Charles was haunted by intellectual doubts about his faith. He simply could not reconcile what the Bible had to say with his own intuition and the "facts" of history and science. Charles judged the God of the Old Testament as a "petty, jealous, inept, vindictive, unjust, tribal god." This god repented from making men and then killed them with a flood, hardened the heart of Pharaoh so he could murder all of Egypt's firstborns, and ruthlessly commanded the slaughter of entire people groups. To Charles, this god simply was not compatible with the God of love he had been told about. Regarding the story of Job, Charles asked "How would you feel if God killed all your children just to make a point in an argument?" He denounced the story and the god as "immoral." Finally, Charles shocked his congregation by saying he could no longer believe Christianity to be true, and walked away.
I once was blind but now I see?
I read about Charles Templeton's spiritual derailment in his book, Farewell to God: My Reasons for Rejecting the Christian Faith. People like Templeton pique my curiosity. Like a moth drawn to a candle flame, I am attracted to atheist websites. I want to understand how "the other side" thinks so that I know how to reach them. I also want to better equip young people to respond to the objections of agnostics like Templeton. But as I read the writings of former Christians and "ex-apologists," my faith is shaken and my heart is saddened. The website, www.ex-christians.net, has the testimonials of hundreds who have abandoned the faith.
In my earlier years, I was naïvely optimistic about the facts of Christianity. The evidence was so clear, I reasoned, and the arguments so compelling, that anyone who walked away from the faith must have been simply uninformed. If only these people would read The Case for Christ or, I Don't have Enough Faith to be an Atheist, then they would be able to see! But I was deeply disturbed to hear about former apologists walking away. "What ominous information have these people discovered that caused them to lose faith?" I feared that I too would discover some dark secret revelation and my own de-conversion process would some day be chronicled online. I had to dig deeper. As I read the arguments and reasons given by those "un-born-again," I realized I wasn't as equipped to answer their objections as I had thought. Here I encountered the "bitter root of unbelief that defiles many." (Heb 12:15 NLT) Continue reading…