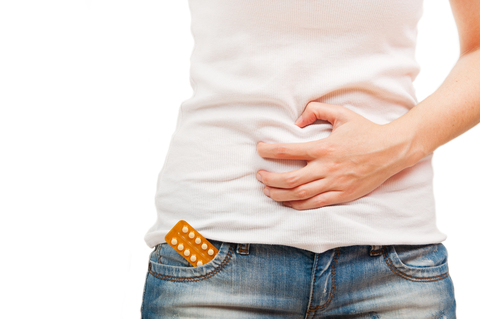 By Jesse Jost
I want to look briefly at the topic of birth control. I know by bringing this up I am dangerously digging in a minefield of emotions. Many, if not almost all, couples use some form of birth control, and do so for very strongly held reasons.
When it comes to the birth control debate there are so many issues to consider: What is your motivation for having kids? Can you responsibly provide for them? Can you handle another child and still maintain a Christ-like attitude? These are all important questions to ask for most of our choices in life, but with birth control there is a deeper issue to consider first.
This watershed issue must be considered before all else: Is God the author of all human life, or does some life enter the world against God's wishes?
If there is no God, or if there is only a distant "watch-maker" god, who set things in motion but has left the running of the world to our discretion, then of course due diligence should be given to every choice of whether or not to bring another child into this pain-filled planet.
On the other hand, if every life is created by God, then surely His wisdom trumps ours as far as when it is right to bring another child into the world. God doesn't make mistakes and could be trusted every time He chooses to create another life. We are so limited in our knowledge of the future. We don't know how secure our jobs are, what the economic forecast is, or if we have enough saved up for all of life's unexpected blows. Conversely, God knows every detail of the future, and He knows what is best for us.
Remember, I am writing for Christians here: To be a genuine Christian is to be defined not just by right actions, but by our attitude of faith, or trust in God. Without faith it is impossible to please God. (Heb. 11:6) And whatever actions are not from faith are considered sin. (Rom 14:23)
Is God the Creator of Life?
Does God create every life? Or does child after child pop into existence while God anxiously frowns, wishing we would figure out "what causes that"? What does God tell us in His word?
"Rich and poor have this in common: The Lord is the Maker of them all." (Prov. 22:2)
The Psalmist tells God: "For you formed my inward parts; you knitted me together in my mother's womb." (Ps. 139:13)
"The Lord has made everything for his own purposes, even the wicked for a day of disaster." (Prov. 16:4)
I could go on citing verses, but I think it is clear. Every time a life is conceived, it is the work of God. For us to say that some people had too many kids or had them too close together is to insult the Creator of the universe and say that He made a mistake.
If these two facts are true: That God is the Creator of life every time, and God never makes mistakes, then I really think this changes everything about the birth control debate.
Are you called to the mission field but think that children will be in the way? Who gave you your calling? Wasn't it God? Can't you trust him to know if kids will get in the way, or if they will instead open doors? Are you worried about finances? God promises that if we seek His kingdom first, "all these things will be added to you." (Matt 6:33) Are you avoiding children for health issues? Does not God know this and care about it? Do you think God watches you conceive and says, "Oh no, I was going to heal you but now that you went and got pregnant, I'm helpless"? On the contrary, God is so tender, so compassionate to our struggles down here, and "He gently leads those that are with young." (Isa. 40:11)
It all hinges on this fact: Is God the Creator of life? If He is, then He can be trusted every time. If God is not sovereign over every life that comes into the world, then having children is reckless.
My intention here is not to cite passages that prove that all forms of birth control are sin. On this issue we need to shout where scripture shouts, and whisper where the scripture whispers. What is so clear in scripture is that trust and surrender to God are critical components of a healthy relationship to God. But what that trust looks like will be different for each person. I don't think scripture gives us warrant to condemn all non-abortive methods of birth control. I do, however, believe the forms of birth control that kill a conceived child are wrong. I also believe that sex was given to us for more than just reproduction. Sex in marriage, enjoyed purely for pleasure and to cement the bond of husband and wife, is blessed by God. There are also times when abstinence in marriage is acceptable for different reasons, but God warns to not stay apart for too long, "lest you be tempted." (I Cor. 7:5)
It is so important that we do not judge each other in this area. We don't know all the factors each person is dealing with, or the story that God is writing. God uses even our mistakes to shape us and teach us things about Himself. This article is not meant to be a universal prohibition against birth control (but people will read what they want to read) but to simply remind people of a truth that our world has lost sight of: That God is the author of every life, God doesn't make mistakes, so every person conceived can have confidence, that God wanted them in existence. When we Christians put the emphasis on our responsibility to only have kids when it is wise, we imply that the conception of some children has been a mistake, here is a life that God never intended to be here. That is a terribly cruel message, and I know it is not one that Christians intend to communicate, but the logic follows closely and Satan is only too willing to point it out to the depressed person. Children who hear that they were "accidents" can have deep emotional issues that only God's truth can heal. All we Christians can do for each other is challenge each other to trust God fully and remind each other that God is trust worthy. We can't go around telling them what to do or judge their motives. Motives rather than actions are the key thing here. "Whatever is not from faith is sin."
For Heidi and I, the choice to use or avoid birth control does not come down to whether the individual acts to prevent birth are in and of themselves sinful, but rather what does our use of them say about our relationship with God? Are we living with surrendered hearts, willing to follow wherever He leads? Or is there part of us that is saying "no" to God? Are we doubting His wisdom or power?
We are in the trenches here. We are not some 65-year-old couple finally giving their womb to God. No, in our stage of life our choice to have an open womb and trust God with the size of our family is very real and scary at times. Life never seems so fragile as the days leading up to labor and delivery. All the stories of women who have died in childbirth come alive with horrific vividness. At the same time, few things cast us on the mercy of God like children. Children are spiritually sanctifying. We humans are magnetically drawn to living for ourselves, but children remind us that our actions affect those around us and that little eyes are watching and wanting to copy us.
It is true, I am a guy. Some of you are probably saying that I have no right to force this choice on my wife. I agree! Heidi made the decision on her own to give her womb to God before we were married. You can read her thoughts on the subject in the link below. I do know however that the decision to stop having kids often comes from the husband, while the wife struggles to submit. The choice to trust needs to be mutual.
God loves new life, and one of the main purposes for marriage is children: "Has not the one God made you? You belong to him in body and spirit. And what does the one God seek? Godly offspring. So be on your guard, and do not be unfaithful to the wife of your youth." Malachi 2:15
Are you saying that trusting God's sovereignty absolves us of responsibility? Should we also not wear seatbelts, because "God is sovereign when we die?"
The fact that God is in control of events does not remove our human responsibility to obey God with our actions. God sits as King "working all things according to the counsel of His will." (Eph 1:11) But He also sits as Judge, giving us commands that we have a duty to obey and we will all stand before Him to give an account of our actions. (2 Cor 5:10)
God promises to provide for our needs (Matt 6) but we are still to work diligently to provide. (1 Tim 5:8) God is sovereign over the time of our death ("All our days are numbered," the psalmist says). But we still are not to be reckless or "put the Lord your God to the test." (Luke 4:12) God is the giver and taker of life, but we are to honor his gift of life by doing all we can to protect it. Seatbelts and helmets show that we believe life is a gift that should be guarded. Birth control can imply that life is something to be guarded against. Or that if we have unprotected sex God might make another life in error, and we might be "punished" with another baby.  God just won't understand that now is not a good time for another life, so we have to prevent Him from making another mistake. These creeping lies will poison your walk with God.
"But I know moms who had rotten husbands and were reduced to baby factories. The children weren't provided for. All the babies ruined the health of the mother. Surely this wasn't God's fault?"
We humans fail each other. But the problem is not the large family. There are families with only one or two children that fail miserably. Obedience to God should be followed in every area. It is not enough to say, "God, give me babies" and then neglect them. Divorce, abuse, and health problems are not because of too many children, no matter what the Accuser says.
If you are practicing birth control or have eliminated the possibility of being able to conceive, I don't want you to feel judged by me.  God is the One writing your story. How He leads you is between you and Him. Heidi and I try to stay surrendered to God by giving Him our womb to use as He chooses, but trust is a daily struggle. God is abundant in mercy toward us all and is so quick to forgive.
If you decide to not use birth control the choice should not be motivated by guilt or fear of punishment. Rather it is an acknowledgement that what God gives is good! Children are a blessing; the fruit of the womb is His reward. (Ps. 127) How many of you would turn down a million dollars, even though it would mean extra responsibility and possible heartache? Isn't a child of far greater value than a million bucks? Why would we ever want to say no to one of God's greatest gifts? I always marvel at parents who intensely love every single child God gives them and can't imagine life without them, but then they tell God not to give them any more. If this is you, think about what you would be missing if you had said no to God one or two children earlier. What are you missing now?
I sometimes feel like I could handle 6 or 7 kids, but 11 seems overwhelming. But then I remember that I am the oldest of 11 children (which is hard to forget, actually) and I think about my siblings who were 9,10, and 11 in the birth order. They bring the world so much joy and laughter. They have had such a huge Christlike influence on our own kids. I am so glad my parents didn't stop at 8!
God will let us use medical knowledge and technology to prevent children. He will still love us with an overwhelming love. He lets us turn down spiritual blessings all the time, when we say no to prayer, or Bible meditation. But when you say "no" to God, you must ask yourself why you don't trust Him in this area.
We live in a culture of death, a world that sees children as a curse and burden. Satan is the father of lies and will do everything he can to make us doubt God's goodness. Trusting God will result in ridicule from the world and, sadly, other Christians. The devil loves to shame those who place their trust in God. I know the feeling of not wanting to appear hick or unsophisticated. But it is God I will stand before in the end.
I am not telling you that you must have a big family or that you are not following God. I know "open wombers" who have had small families or no biological children. The size of the family is not the issue. It all comes down to trusting God. God knows what is best for you.
Hebrews says, "But encourage one another daily, as long as it is called 'Today,' so that none of you may be hardened by sin's deceitfulness." (Heb. 3:13) I write, risking your wrath and friendship, to plead with you to trust God and to remind you (and me) that God is trust worthy. That He who did not spare His own Son, will give us all that we need for life and godliness.
"Oh, how great are God's riches and wisdom and knowledge! How impossible it is for us to understand his decisions and his ways!" (Rom. 11:33, NLT)
"For this reason I bow my knees before the Father, from whom every family in heaven and on earth is named, that according to the riches of his glory he may grant you to be strengthened with power through his Spirit in your inner being, so that Christ may dwell in your hearts through faith—that you, being rooted and grounded in love,may have strength to comprehend with all the saints what is the breadth and length and height and depth, and to know the love of Christ that surpasses knowledge, that you may be filled with all the fullness of God. Now to him who is able to do far more abundantly than all that we ask or think, according to the power at work within us, to him be glory in the church and in Christ Jesus throughout all generations, forever and ever. Amen." (Eph. 3:14-21)
This God can be trusted in every area of life!
Heidi's Thoughts: read here.