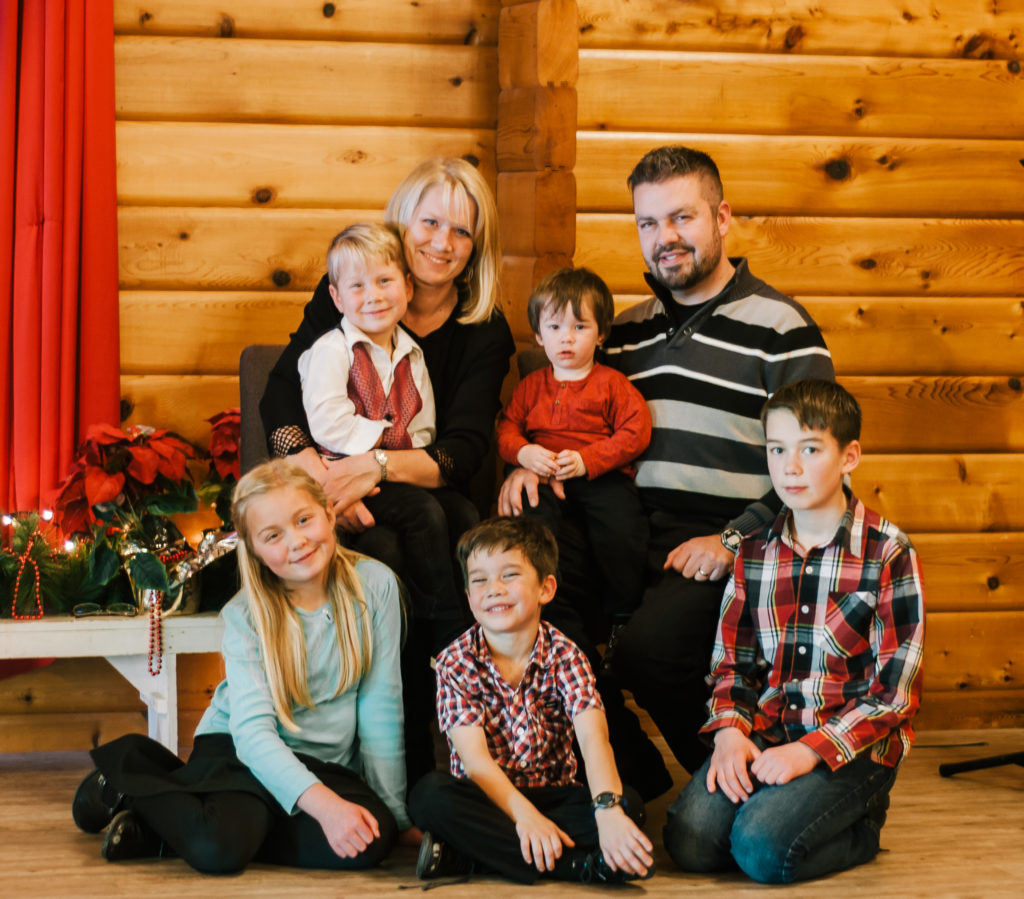 Dear Jesse, snuggling with your beautiful wife on the couch in the last hours of 2017:
Hello from future Jesse, writing at the tail end of 2018. Once you're over the shock of hearing from me, I'll bet you have lots of questions. I'm sorry I can't tell you everything, but I can reassure you that everyone in your immediate and extended family is still alive. Enjoy your dog Tirzah every chance you get, though. You'll have to deal with an unexpected goodbye later this year.
Yes, you still only have five kids; Heidi isn't expecting yet, but we're working on that.
I'm sorry to report that even though right now you are so excited about your new diet principles, and expect to be a lean athletic individual by year's end, you're not. In fact, you've gained 5 pounds. Oh well, maybe next year's Jesse will finally bring happy news in that department. We can always dream….
I can report that you have an incredible year waiting for you and I'm so excited for you to enjoy it! After the painful and difficult 2017 you had with medical anxieties and dealing with Type 1 diabetes diagnosis, 2018 will be refreshingly smooth and free from tragedy. Sure, you will face diabetes scares and end up in the emergency room once because of a stomach bug that Elijah will get. And even though you'll fall asleep many nights worried about whether Elijah will make it through the night, I can assure you, he will wake up with energy and love for life every morning, so sleep well.
If you're wondering how the rest of diabetes care is going, it's rolling along. It becomes more second nature all the time, but don't let that lull you into a false sense of security, because this disease is always life-threatening and unpredictable. You'll have to be alert and take life-saving measures many, many times this year. Just a heads up though, around the one year anniversary of Elijah's diagnosis, you'll hit a rough patch. The shots will hurt all the time and be a traumatic, teary, experience. You'll feel lost and so sick of diabetes, but it will get better. Just ride it out.
Let's see, what else can I tell you about the year in front of you? Travel adventures! What a great year in that department! Be patient, though, since those don't happen for awhile. Remember what a mild winter you've had till now? Yeah, that's all gonna change in a huge way. There is so much snow, cold, and wind coming that you'll get epically drifted in many times, and be snowed in for most of a six week stretch. You, being you, will worry often about what you'll do if even more snow falls, or if there is a medical emergency, but take Heidi's advice and relax. It all works out. And the kids will make great Little-House-on-the-Prairie type memories as they have to trudge through blinding snow up to the house because the van got stuck again. You will also make the wise choice to read local history books about how hard the pioneers had it. You'll enjoy the books, and they will give you a healthy perspective.
But once the snow thaws and you can get the van out of the driveway, what a year for travel! In April you take the family to Montana for a vacation at your grandpa's condo. After a stop in Cut Bank to hear the last concert of Josties' spring tour, you'll head to Whitefish full of anticipation for a week at your favourite holiday destination. I hate to break it to you, but you'll be devastated when you open that door. A leaky toilet fitting that went undiscovered for 6 months will cause thousands of dollars of damage and leave the place soaked and drywall dangling from the ceiling. But the trip turns out well, since you'll spend a few days in a motel, the kids will love all the pool time, and a water clean up company will be able come in and dry out the condo and reduce the water damage!
In May you'll have a great mini vacation taking the family to Medicine Hat for a research fundraiser, Walk for Diabetes, and on to Elkwater the next day for Mother's Day. In June you'll plan a huge road trip to several destinations centering around your brother Joshua's wedding to Lindy Nelson in North Dakota. Dreaming of Mt. Rushmore and Laura Ingalls Wilder's home will be fun, but reality will set in and you'll streamline the trip, to everyone's relief. But it will still be such a fantastic trip, and you'll relish visiting the Little Bighorn Battlefield en route home.
In July, you'll plan a day trip to explore the Sweet Grass Hills. The night before you'll be so tormented by thoughts of being stranded in the middle of nowhere with no cell reception and a diabetic child that you almost cancel the trip. Take my advice! Fear makes a poor chisel of the future: Take the trip! It will be one of the best days of the year where you discover a little private campground and explore an old mining town. You'll love that campground so much you'll return in August for a fantastic overnight camping trip that will be the highlight of the year and will include a shocking surprise visit. I won't spoil it with more details.
The week after VBS at your church has been traumatic two years in a row, with a miscarriage one year, and diabetes diagnosis the next year, so I understand why you are nervous about it this year. But I have more good news. When VBS is over, you'll take the family back to Whitefish and the repaired condo, and have such a rich week, hiking, reading, and swimming at the beach. You will love it! Cut Eric some slack though, he will be a handful again…
You will have to cancel your fall travel plans because you get a new job. In May, your dad will get a job driving school bus full time. You'll take the training so you can be a sub driver. Over the summer, a full time local route (that you've driven many times before as a sub) opens up for you. So now you are a full time school bus driver and you love it! So far the weather as been great and you've been able to get the school bus out of the yard everyday. Fingers crossed for next year…
The time at home between bus runs allows you to study, work on projects, and plan for the church youth group and Sunday School activities you're still heavily involved with. It will also allow you to tackle a mammoth project of digitally transferring and uploading 22 years of Jost family home video from three types of tape. It will be your obsession for almost two months, but so worth it.
You really need to watch your obsessive tendencies in other areas, though. In the fall you'll become obsessed with breaking the record for the mini-golf course you made last year. The course will be your family's favourite activity for much of the year. Yes, you will break the record just before the snow flies, but I'm not sure the price of all the time you spent and the bad words you said justified it.
You ready for another shock? Guess who got married this year? Your sister Emily! Can you believe it? I know! After turning down countless offers from guys all over North America, a bald guy, Aaron, from Nebraska somehow sweeps her off her feet!? I have no clue how he did except it must have been God's working. But I can assure you, you will really like him, though Emily moving to Nebraska will be hard for all of us.
Your brother Jeremiah will make the smart choice to date and propose to Christina from Saskatchewan. And your 2019 self will get to see them marry in January. Marrying is kind of a thing for the Josties lately.
Now, being the awesome dad that you are, I'm sure your curious about your kids. They're doing so well.
John-Michael is a very mature almost 12 year old, who is loving coming to youth group with you. The ½ hour drive to and from Foremost will give you guys some awesome opportunities to talk and connect. You couldn't ask for a better firstborn. He still loves his books, Lego, animals, and inventions, and in the midst of all his interests, gets good grades. He'll be inspired to start writing a fantasy novel that exceeds everyone's expectations. He's such a good big brother, helping his youngest brothers in the night whenever he can so his mom and dad can sleep.
In September you'll undertake a house renovation project and switch the kids' bedrooms around. It will be hours repairing holes and dents in a room that endured boys for ten years, but the kids love the change, and now there are two bunk beds in the boys' new room so Eric has a spot whenever you guys kick him out of your bed. Yes, he's still in bed with you and Heidi…
Sophia turned 9 in September. (You of course know this, but someone else might see this letter.) She has really matured this year – so sweet and sensitive and aware of others' needs. She loves her baby brother Eric and is a pro at taking care of him. Being the only girl with 4 brothers is challenging and she needs her space often, but in all honesty she also enjoys getting under her brothers' skin a little too much sometimes. Other times she blows us away, like when she got up early and made individual breakfasts-in-bed for each of her brothers. Sophia still loves music, and her new bedroom is a favourite getaway where she listens to music and audio dramas while crafting or playing with Lego and Playmobil. She is so creative and artistic.
Elijah (6) carries so many burdens with his diabetes. It's hard to watch him be so careful and obedient with what he eats and still face the unfair result of high or low blood sugars that make him feel awful. He's incredibly brave most of the time, but other times the weight and cruelty of all the painful needles and diet denials he has to make are too much and he has tears to shed. But it is making him stronger and his life is a gift none of us take for granted. He still can bust out dance moves like nobody I've seen and often has us rolling with laughter. He loves to draw and loves his Lego. On his one-year dia-versary, you'll give him a Lego hospital set and plan to build it each year while you reminisce together and thank God for medical provision.
Justin (4) can bust out the dance moves with the best of them, too. He is making great strides in his reading ability and has also discovered Lego. He is still a sweet cheerful kid who loves playing with his brothers. With Elijah's diabetes taking up so much mental space, and Eric being a full time tornado/earthquake, you'll really have to fight to make room for Justin and give him the affirmation and attention he needs.
Eric is now 17 months. Man, you are in for a treat with this kid this year. He will be your earliest walker at 9.5 months, and one of your worst teethers. You and Heidi will start the year swearing off Orajel because of its rare medical risks, but will break under Eric's incessant night screaming and slather it on with the best of them. Underneath that wild, non-stop, creative/destructive energy is the heart of such a tender loving baby who loves to cuddle and be with people. Fair warning: don't ever leave him unattended with your wallet, Tums, or cupboards, or basically anything. You will pay for it!
Your beautiful wife Heidi is still the love of your life and the most precious thing in the world to you. She will need extra care and understanding this year. The dual forces of diabetes and Eric will rob her of so much sleep and mental energy. Give her a break every chance you can get and remind her often how well she is doing with being a wife and mother. (Heidi adds: You aced this, 2018 Jesse! You let me sleep in over 100 times this year, and served up delicious breakfasts in bed every time. And you graciously put up with hell from my depressive, grouchy self.)
I will warn you that there will be so many tense moments between you from stress related to diabetes and lack of sleep. But God in his mercy will provide you with unbelievable oases of rich enjoyment together, thanks to your amazing extended family who will watch the kids and give you a chance to reconnect.
I'm sure you have many more questions about what the year will hold, but you'll have to wait and be surprised just like every other year. I will plead with you to savour the moments. You are so distracted by so many things and carry so many concerns, but don't forget to stop and just take in God's beauty and the abundance He has showered on you.
Let me close by telling you about an episode you'll experience in March: You'll come home from Cut Bank, MT, where Heidi is the pronouncer at a spelling bee. It'll be dark and your driveway will still be impassable from drifting, so you'll park at the end of your almost-1/4-mile-long driveway, grab flashlights, put baby in the carrier, and stuff things in bags and on a sled, and start hiking up the hill.
Two of your group of seven will cry all the way about how cold, dark, scary, and miserable it is. And two others won't shut up about how amazing it is with the stars, and the adventure, and how they want to do it every night.
Same circumstances, vastly different experience! The quality of life is determined not so much by what happens to us, but by how we respond. Learn to be in the second group, because you've already spent far too much of your life responding like the miserable group.
I'll see you in almost a year and we can chat more then.
Your ever-loving friend and sometimes harshest critic,
Future Jesse