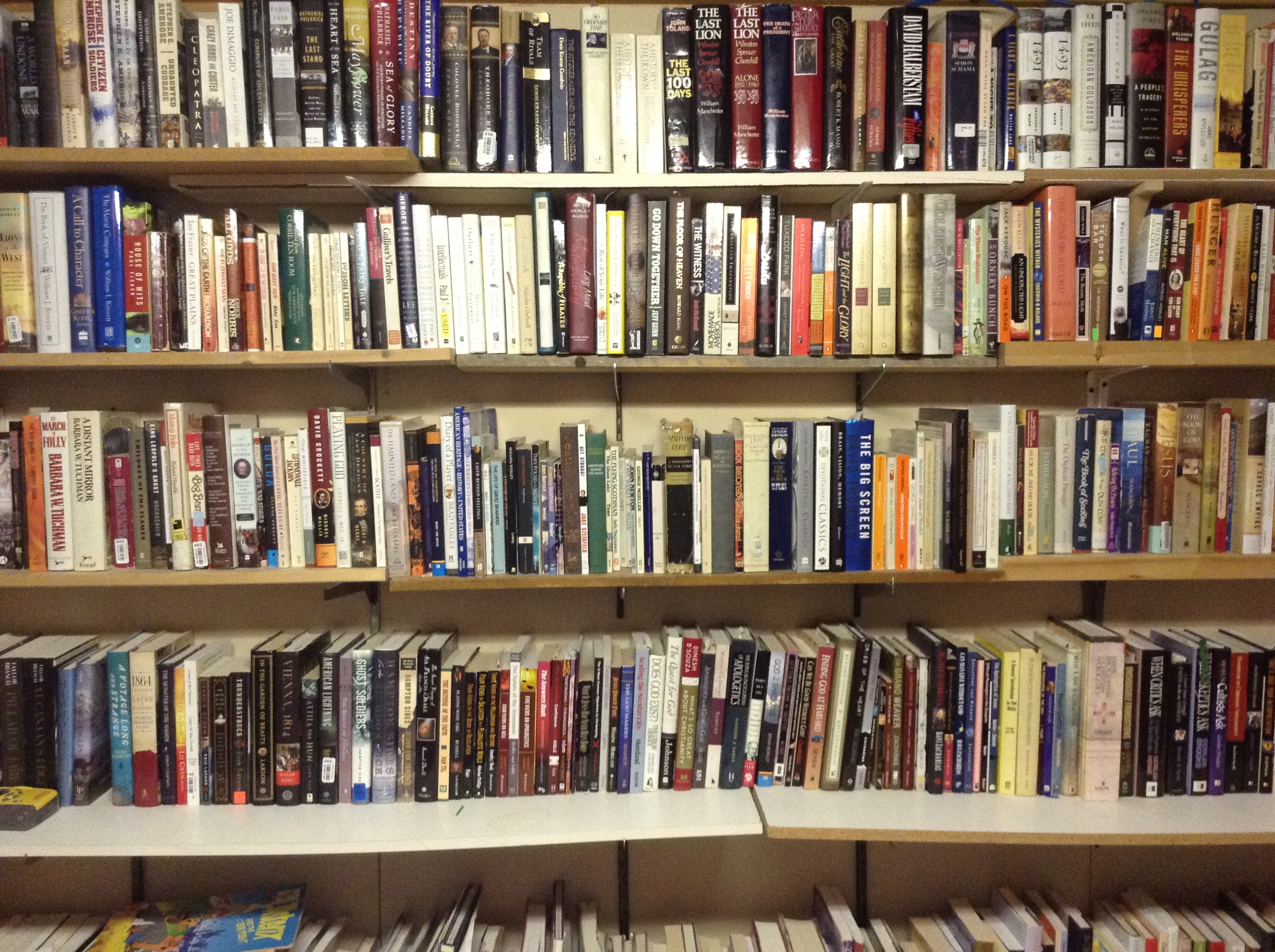 By Jesse Jost
Its been said that the person we are becoming is shaped by the people we hang out with and the books we read. These are some of the best books that I have ever read; they have stirred me, convicted me, and also brought great pleasure. They are listed below in no particular order, but organized by category. I highly recommend any book on this list! Comment below on the books that have had the biggest impact on you or brought you the most joy. Happy reading!
ChristianLiving/Theology
Unoffendable by Brant Hansen
Very impacting book that set me free from a lot of self righteous anger and my critical spirit that so often "wounds me." So good!
Look and Live: Behold the Soul-Thrilling, Sin-Destroying Glory of Christ by Matt Papa
One of several books I've read lately that keep me focused on Jesus and the power of the Gospel. Jesus truly becomes more desirable and awesome to me with each passing year.
Eyes Wide Open by Steve DeWitt
Really opened my eyes to the beauty of God and how much we miss.
Delighting in the Trinity by Michael Reeves
Showed how the love exemplified in the trinity is the foundation for a correct understanding of all theology. Amazing book.
The Insanity of God by Nik Ripken
A man discouraged and feeling abandoned finds the power of God among the most persecuted Christians around the world. Makes you squirm, but is so faith affirming.
The Skeletons in God's Closet: The Mercy of Hell, the Surprise of Judgment, the Hope of Holy War by Joshua Ryan Butler
As someone who has struggled with doubts about God's goodness because of the doctrine of hell and the God-sanctioned brutality in the Old Testament, this book was so refreshing and convicting. Hell and Judgement day are not truths that call God's goodness into question, they are great proofs of His passionate love for His creation. God has a love with teeth that will not stop until He has removed the hell from our hearts, and hell from from His glorious creation. Judgement day is good news for the down-trodden and oppressed and all who are in Christ Jesus.
Mere Christianity by C.S. Lewis
I read this in my teens. I recently listened to the audio version and kept thinking, "oh so that's were I got that idea."
The Screwtape Letters by C.S. Lewis
Such great insight into the nature of different temptations and great reminders about what is truly important. Also the inspiration for the "wormwood articles" you'll find on this site.
Desiring God by John Piper
Convicted me about the spiritual benefits of learning to enjoy God, and where real pleasure lies.
The Pursuit God by A.W. Tozer
Greatly fuelled my passion for God as a single person. Need to revisit it.
Pilgrim's Progress by John Bunyan
I read several versions before I turned 20. I love thinking in analogy and this book provided great fodder.
The Bible Jesus Read by Philip Yancey
The insights in this book gave me such renewed appreciation for the parts of the Bible that are often neglected like Deuteronomy and the minor prophets. Also stirs a desire for books like Job and the Psalms. Yancey is an amazing writer, I have loved several of his other works as well.
Paradise Restored by David Chilton
Helped me take the first step toward embracing postmillennial Eschatology and a greater understanding of the Lordship of Christ.
The Book That Made Your World by Vishal Mangalwadi
Written by a man from India who has seen first hand the corruption and backwardness that follows a rejection of a biblical worldview. Vishal presents a powerful case that all the great aspects of civilization flow from the revolutionary principles in God's Word.
Good to Great in God's Eyes: 10 Practices Great Christians Have in Common by Chip Ingram
We are saved completely by grace, apart from our works, but we are told to be diligent to workout our sanctification, that our works will be tested, and that we reap what we sow. What we choose to do matters. This book gleans from the great lives of the saints the practices and disciplines that makes us truly great, i.e. humble, Christ-like servants.
An Infinite Journey: Growing toward Christlikeness by Dr. Andrew M. Davis
A powerful, Word saturated, and very practical book on sanctification. The best I've read on the subject. Each chapter is so thought provoking and convicting.
Embracing Obscurity: Becoming Nothing in Light of God's Everything by Anonymous 
This book cut a freeing swath through the chains of my pride and insecurity more than any other book. It was so convicting, but such a relief to see the possible joy in living free of the crippling need for men's approval. I must decrease so He can increase.
Your Best Life Now by Joel Osteen
Just kidding.
Christian Biography
Jonathan Edwards by George Marsden
I had read a book on Edwards by Ian Murray, which was great. Marsden's book was fantastic as well. What a man Edwards was and what a mind! He's known for Sinners in the Hand of an Angry God, but his real passion was the discovering of and worshipping the beauty of God in all his intellectual pursuits. He's the reason for our son Justin's middle name.
Here I stand by Roland H Bainton
This book was written in the 1950's but reads so well. Martin Luther was a fascinating man.
No Compromise: The Life Story of Keith Green by Melody Green
What a trophy of grace, Keith Green was! This book will do great damage to the pharisaical spirit.
George Muller of Bristol by Arthur Pierson
Read as a teen and inspired me to more fervent prayer
John Calvin: Pilgrim and Pastor by W. Robert Godfrey
A great introduction into the life and ideas of Calvin, who is much deeper and much kinder than often portrayed. His passion for the sovereignty of God has been lost or twisted by many.
Soul Survivor by Philip Yancey
Yancey briefly recounts the lives of 13 people who have shaped his life. A great taking off point for further research.
Shadow of the Almighty by Elizabeth Elliott
Jim Elliott, like Keith Green, fuelled my fire to surrender all and to spend my life on this earth on what really matters.
Bonhoeffer: Pastor, Martyr, Prophet, Spy by Eric Metaxas
The spiritual and intellectual journey of Bonhoeffer is riveting, greatly thought provoking, and very convicting. Book requires of bit of effort but is very rewarding. Hard not to be moved at the end when Bonhoeffer pays the ultimate price for his convictions.
Confessions by Saint Augustine
Incredible insight into life and psychology, written over 1600 years ago but very relevant.
The Flying Scotsman by Sally Magnusson
Every young man needs to meet Eric Liddell. He's a great role model of what godly masculinity and passion should look like. I can think of no better sports hero.
Unbroken by Laura Hillenbrand
Incredible story about how much a man can endure, but even more amazing is God's power to heal us and enable us to forgive. This book is as good as you've heard it is. Read it!
General Church History
Wide as the Water: The Story of the English Bible and the Revolution it Inspired by Benson Bobrick
This book was so good. Informative but very entertaining. What a journey God's word has taken!
Church History in Plain Language by Bruce Shelly
Great intro to Church History. The biographical approach ensures this is not dry or dusty.
The Story of Christianity by Justo Gonzalez
Ditto for this book. If you want just one book on Church History I'd probably recommend this 2 volume set.
The Reformation for Armchair Theologians by Glenn Sunshine
This book was hilarious and really distilled the important elements of the ideas and facts of the reformation.
One Nation Under Gods: A History of the Mormon Church by Richard Abanes
This is very well researched and carefully footnoted. If any Mormon would like a greater appreciation for all that Mormons have had to go through, I highly recommend this book. What a story. Fascinating on many levels.
A History of Christianity in the United States and Canada by Mark Noll
Very solid and thorough.
Fit Bodies Fat Minds: Why Evangelicals Don't Think and What to do About it by Os Guinness
A great brief analysis of the trends that have made intellectualism a sin to many modern evangelicals. We need to give our minds back to God and learn how to use them for his glory!
A Thousand Lives: The Untold Story of Hope, Deception, and Survival at Jonestown by Julia Schrees
A disturbing and sobering reminder of how evil counterfeits work to ensnare the hungry and susceptible. So heartbreaking.
The Story of Christian Theology by Roger Olson
I have yet to finish this book but I have loved what I've read so far. Gives context to the ideas of the early fathers, who without that context can be very confusing.
Getting to Know the Church Fathers by Bryan M. Litfin
Also a great introduction. Our Christianity is always a mess of the biblical entangled with our cultural blind spots and expectations. Reading about the times when faith was expressed in very different ways is healthy, I think, and helps us see what is truly essential.
Human Nature
I find human nature fascinating. Most of these books below are not Christian, per se, but I continue to marvel at how much careful scientific research (that is not stunted by agenda, but is willing to follow the evidence wherever it leads) lines up with with the Bible. These are highly recommended but all contain "bones" to be spit out.
Influence: the Psychology of Persuasion by Robert Cialdini
This man went undercover to learn from con-artists and salesmen to learn the ways that people can be manipulated. Fascinating (which could be said about every book on this list)
The Paradox of Choice by Barry Schrwartz
Suprising insight into the way too great a selection of choices can ruin the quality of life and lead to a greater dissatisfaction with life.
The Power of Habit by Charles Duhigg
Totally absorbing research into the way habits are formed and how to break them or replace them.
Made to Stick by Chip and Dan Heath
I highly recommend this book to anyone who speaks or writes and wants to make an impact. A memorable study about what makes a message last in the brain files. I kept noticing how many of these pointers were exemplified in the teachings of Jesus.
Drive: The Surprising Truth about What Motivates Us by Daniel Pink
Yeah it's surprising. Excellent insight for parents who want to know how to motivate your kids or anybody who want to motivate anyone else.Its that good!
The Tipping Point by Malcolm Gladwell
Gladwell is a real treat. He reads the studies in the boring format and gives them to us in the fascinating version.
Stumbling on Happiness by Daniel Gilbert
This book is a highly recommended antidote for intellectual pride. Shows why we should not place too much confidence in our memory or imagination. Indirectly demonstrated why God's word is the only sure foundation.
Nurture Shock: New Thinking about Children by Po Bronson and Ashley Merryman
Any new parent will find great ideas about dealing with the common struggles kids face. Book showed how much of secular behavioural theories on kids are so flawed and the damage they have done.
Covenant Marriage: Building Communication and Intimacy by Gary Chapman
Probably the most helpful marriage book that Heidi and I read before marriage.
With Good Reason: An Introduction to Informal Fallacies by S. Morris Engel
Fun book that sharpens the mind and equips it to spot poor reasoning or manipulating propaganda and advertising.
Crucial Conversations by Patterson, Grenny, McMillan, Switzler
Its not too much of a stretch to say that as your conversations go, so goes your life. The authors describe a "crucial conversation" as one where the stakes are high (the outcome will have a big impact on you or one you love) and the emotions are involved. This book is filled with practical tips and strategies to make your conversation productive rather than destructive.
Apologetics:
I have read a lot of higher level Apologetics books but those can be a chore. Here are my favourite introductory level texts. It doesn't mean they are not thorough, just that they aren't boring.
Tactics by Greg Koukl
Brilliant book about how to let questions do the heavy lifting countering false world views and ideas. So good.
The Reason for God by Timothy Keller
My Introduction to Keller. Great book. Deals with the apologetic issues that postmodern young people are dealing with.
The Case for Christ
The Case For Faith
The Case for a Creator
The Case for the Real Jesus all by Lee Strobel
I love Strobel's style. He interviews the best in their fields and crafts very entertaining but intellectually stimulating books.
I Don't Have Enough Faith to be an Atheist by Norm Geisler and Frank Turek
Still probably the best one volume text of apologetics I have read.
Socrates Meets Jesus by Peter Kreeft
Fictional Socrates comes to a modern college and through questioning destroys the modern secular worldviews and discovers the truth about God and Jesus.
Between Heaven and Hell by Peter Kreeft
C.S. Lewis, Aldous Huxley, and John F Kennedy all died on the same day. Kreeft has them all meeting on the way to their final destination and has them debate areas of truth and life. Highly imaginative and thoughtful.
Come Let us Reason: An Introduction to Logical Thinking by Norm Geisler and Ronald Brooks
Shows why logic should not be an insult among Christians. And how Logic is rooted in the nature of God.
General History
I love reading history and the books below are some of the best I have come across. They show the unvarnished facts about what these men did, so use discretion before handing these books to your kids.
Team of Rivals: The Political Genius of Abraham Lincoln by Doris Goodwin
Lincoln struggled with depression, yet had a profound understanding of people. This detailed yet riveting book follows the lives of very different men and political rivals who all ended up in Lincoln's cabinet. It is a worthwhile read on so many levels. I also really enjoyed Goodwin's most recent book "The Bully Pulpit" about the friendship and then rivalry of Teddy Roosevelt and William Taft and the original Muckrackers.
John Adams by David McCullough
David McCullough writes history just as it should be written.While I loved many of his other books, such as "Truman" and "The Greater Journey", I think "John Adams" is my favourite. This book is such a treat to read, with so much insight into an amazing marriage between John and Abigail, and the complex friendship they both had with Thomas Jefferson.
Conquistador by Buddy Levy
So colourful and utterly transporting. Near constant sense of wonder as you watch the old world clash with the exotic locations and personalities of the new world. What a story!
The Last Days of the Incas by Kim MacQuarrie
What I just said applies to this book as well. So horrific how a handful of men on horses toppled such a gigantic empire. This book shows how it happened.
Over the Edge of the World: Magellan's Terrifying Circumnavigation of the World by Laurence Bergreen
It's hard fathom how much of the world was unknown in the1400s. The experiences  of these men sailing into the unknown and enduring indescribable hardship and encountering exotic cultures is endlessly fascinating.
Undaunted Courage: Meriwether Lewis, Thomas Jefferson and the Opening of the American West by Stephen Ambrose
A great adventure story in the same vein as the last book except on land. I love books like this. So interesting to read about the northwest before western civilization transformed it.
The Fifties by David Halberstam
The cultural revolutions of the 60s and 70s happened because of the cracks that started in the 50s. It was such a transformational decade much different than portrayed on "Leave it to Beaver."
Endurance: Shackleton's Incredible Voyage by Alfred Lansing
Jaw dropping. Read it!!
What Hath God Wrought:The Transformation of America 1815-1848 by Daniel Walker Howe
The most thorough and comprehensive history book I have ever read, yet written in such a way that made it a pleasure to read.
A World Undone by G.J.Meyer
Supposed to be one of the best one volume books on the first world war. I loved it. I especially appreciated his background chapters of the European trends in the different empires that led to the clash. It makes this book an excellent general history of Europe.
Inferno by Max Hastings
A riveting and gut wrenching comprehensive volume on the tragedy of world war two. The books takes a "bottom up" look at history by focus on the experiences of those who endured it, rather than simply focusing on the world powers and how the map changed.
The Klondike Fever by Pierre Berton
This Canadian author was a fantastic historian and storyteller. The intrigue and ridiculousness the surrounds the lust for gold in on magnificent display in this book. Also check out The Age of Gold by H.W. Brands for a similar look at the California Gold Rush.
Lawrence in Arabia: War, Deceit, Imperial Folly and the Making of the Modern Middle East by Scott Anderson
There was so much corruption and intrigue in the middle east before and during the Great War, this book takes a cinematic approach in looking at some key lives, and the mistakes made during that time that we are still reaping the consequences of today. So well written!