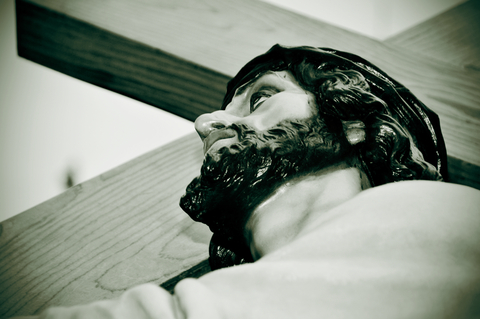 By Jesse Jost
A glory weed threatens to strangle me. Its ravenous appetite for praise, recognition, and social media likes devours moments where my strengths are on display. Twined by its thorny embrace, I am jealous of others' chances to shine, and frustrated when platforms are denied me. I can be reduced to a pathetic approval addict, compulsively checking my phone or computer for likes and comments. With deep-reaching thorns, my glory weed stabs my ego, tormenting me with past criticisms and a haunting sense of being rejected and ignored.
I hate this weed. Yet nothing feels as good as watering it by revelling in past successes and words of praise.
My predicament goes much deeper than my glory weed. I also have a deadly form of spiritual cancer that is attacking my passions and desires. Physical cancer corrupts healthy tissues into a lethal, spreading force. In the same way, my cancer perverts healthy, God-given desires into enslaving passions that grow painful tumours on my soul. My cancer is my selfishness, my greed for my will, done in my way, in my time. It morphs my sex drive into lust, my desire for justice into a cruel passion for revenge, my hunger into gluttony, my protective instincts into anxiety and fear-based control, my need for love into a crippling pursuit of approval, and my worshipping into idolatry. The reach of such a soul cancer is broad and terrifying. A godly desire to use my gifts for God's glory has often metastasized into a yearning for self-promotion.
I am troubled by the disease and enslavement within, but am often at a loss for how to deal with them. Fasts and self-discipline have been impotent to bring lasting change. I can clean up fairly nice on the outside. I have been a Christian long enough to know the right things to say that will make me sound humble, godly, and spiritual. But deep down I see too clearly that the person I truly am is nowhere near as Christ-like as the person I want you to see.
Much of my Christian life is mere management of symptoms – keeping my weeds trimmed. Convicting quotes, books that offer "steps to freedom," and fresh perspectives are often great allies in my fight, but all too quickly I find myself overwhelmed and forgetful. I am lured back to places that feed cancer and water weeds.
I want to find a routine that will empower me to defeat these ailments on my own. I want a spiritual power that will enable me to someday humbly stride to a church pulpit in a perfectly fit body, flash a charming smile, and gently proclaim my total perfection. People's hearts would melt and repentance would sweep the building as we with one mind revelled in my victory and pondered my goodness. I want to be celebrated as a conqueror, one who left a legacy of iron-willed self-discipline.
Like Simon the Sorcerer in the book of Acts, I want to tap into Jesus' resurrection power and become wise, beautiful, and powerful… and worshipped as godlike. But I wake from fantasy to realize that, in this state, more power would only feed my cancer and my weeds. When Adam and Eve fell, and the glory weed first unfurled and the first cell became malignant, God removed them from Eden to prevent them from eating from the tree of life and remaining tormented by disease forever.
While my soul is corrupted by sin, power is the last thing I need. But God has not left me to suffer alone. He has provided a way to be freed and healed. And it came in the last way I would expect.
My problems arise because I want glory and recognition; I want my strengths to be noticed. Jesus came as an obscure peasant, and worse than not receiving recognition, Jesus let Himself be falsely accused. Rather than looking for a way to be noticed for His strengths, (and He did have them – being one with God is kind of a special superpower) He did nothing for His own glory.
My selfishness turns desires into poisons. My self-will drives me into enslavement. Jesus came in complete selfless submission to His Father.
I want a platform and admiration. Jesus let Himself receive the humiliation of the cross.
I want a legacy. Jesus chose death.
Other cultures have their superheroes – gods who conquered by wit or displays of power. Jesus did not come as a clever and powerful example inspiring us to try harder.
Jesus is not a plastic surgeon injecting Botox into our wrinkles while our insides rot. He is the great Physician who wants to heal us with a transplant. It is a procedure that cost His very life, because He is also the organ donor.
Jesus won a great victory though the cross and resurrection. His life and death are the means for us to be healed and freed.
But Jesus' healing plan does not start with positive thinking, supplements, or new habits and routine.
Jesus' cure starts with death. "Then he said to them all: 'Whoever wants to be my disciple must deny themselves and take up their cross daily and follow me.'"
We think of a cross as a burden, but His disciples would have known it as death. The cross always meant death.
I love to think about the cross as something Jesus did for me so I don't have to. But that is not the true message of the gospel.
"Those who belong to Christ Jesus have nailed the passions and desires of their sinful nature to his cross and crucified them there." (Gal 5:24)
The cross is not merely something Jesus does for us. It is a path we must walk if we want Jesus. At its root, Christianity is not just moral laws or rituals. It is rebirth and new spiritual life. It is an implant of Christ's life and heart. It is a supernatural work of God. We cannot achieve this spiritual life through greater effort or more self-discipline. The corrupting power of sin will sabotage even our best efforts.
Jesus says that the only way to follow Him is to take up our cross and deny ourselves. Before we can receive His abundant resurrection power, we have no choice but die to ourselves. To identify with the crucified Saviour. "For if we have been united together in the likeness of His death, certainly we also shall be in the likeness of His resurrection, knowing this, that our old man was crucified with Him, that the body of sin might be done away with, that we should no longer be slaves of sin. For he who has died has been freed from sin." (Romans 6:5-7)
In practical terms, what does it mean to die with Christ? For starters, it is not just a death to self. Many spiritual paths try to kill the self, or surrender to a vague sense of fate. To die with Christ is to surrender to the will of God the Father. It is to cry with Jesus, "Not my will but Yours!" It is dying to the anger and frustration that controls us when life doesn't go like we plan. It is dying to the anxiety that comes when, deep down, we doubt that God will get it right. It is acknowledging that God is the only wise Ruler and His ways are perfect.
Death to self also means to identify with Jesus in choosing service and surrender over recognition and acclaim. The very core of who we are needs to die: the inner man rebelling against God and craving power and fame. The old man cannot be managed through self-help books or positive thinking. The corruption is too radical. He must die.
The very center of our being must be replaced with Jesus Christ. "I have been crucified with Christ and I no longer live, but Christ lives in me. The life I now live in the body, I live by faith in the Son of God, who loved me and gave himself for me." Gal 2:20
From Scripture, it appears that this fight with the old man will be ongoing. When we stop looking to Jesus, the old man quickly sneaks back in to torment us. The only solution is to return to Jesus. We must keep our eyes on His beauty and wisdom. We have to abide in in Him or we can do nothing. Only by the Holy Spirit can we can put to death the deeds of our sinful nature. (Romans 8:13)
The Christian life is a walk of repentance: death to the corrupt self that wants to rule us. We die to our efforts to overcome sin in our own strength. We die to continually beating ourselves up because we aren't "good enough." We consider ourselves dead to the covetousness and lust that wants to destroy us. We die to the rights for praise and recognition, because if there is any good in us Jesus deserves the praise. When the old man is dead, all boasting will be about Jesus.
Death is hard. The way of the cross will not be popular. It will always involve the whining and screaming of the selfish nature. But we really don't have a choice. When Old Man Self is on the throne, His reign is an illusion. He is actually a slave to powers that want to torment and destroy you. But when you surrender to God, you are giving your self over to One who loves you with an infinite love. The One who created all your original drives and desires is the Creator of pleasure and the only true source of satisfaction.
God loves this creation with a holy passion. He is on a quest to rid His world of all the Hell that defaces and torments His beautiful world. You cannot defeat the hell that is in your heart on your own. If you do not die to your corrupted self you will be an agent of hell and destruction. Jesus has gone to incomprehensible lengths to free you from the hell inside you. His power to save is great and abundant, beyond what you could even ask or think. But to receive His healing, you must die daily. It is a sobering reality that every person must deal with.
Let me close with the words of a man who knew far more about death to self than I ever will. C.S. Lewis writes,
"The terrible thing, the almost impossible thing, is to hand over your whole self – all your wishes and precautions–to Christ.
"Christ says 'Give me All. I don't want so much of your time and so much of your money and so much of your work: I want You. I have not come to torment your natural self, but to kill it. No half measures are any good. I don't want to cut off a branch here and a branch there, I want to have the whole tree down. I don't want to drill the tooth, or crown it, or stop it, but to have it out. Hand over the whole natural self, all the desires which you think innocent as well as the ones you think wicked -the whole outfit. I will give you a new self instead. In fact, I will give you Myself: My own will shall become yours.'"