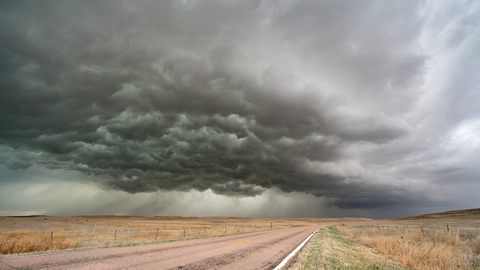 By Jesse Jost
I almost became an atheist because of the doctrine of Hell. I used to choke on scriptures about God's wrath or the coming fiery judgement; they felt unfair and cruel. I gravitated to passages about His love, grace, and mercy.
But even though you may rarely hear about God's judgement and wrath in modern sermons, you can't escape these ideas in the New Testament.
Jesus spoke more about hell than heaven. Sin was so serious, Jesus warned, that it would be better to pluck out an eye or cut off a hand then let those offending body parts lead us to hell. He said not to fear those who can kill the body, but rather Him who can destroy the soul in hell.
Knowing the terror of the Lord motivated Paul's evangelistic pleas. He warned about the coming day when the "Lord Jesus is revealed from heaven with His mighty angels, in flaming fire taking vengeance on those who do not know God, and on those who do not obey the gospel of our Lord Jesus Christ. These shall be punished with everlasting destruction from the presence of the Lord and from the glory of His power." (2 Thess 1:8-9)
Almost every epistle mentions the coming wrath and judgement that will consume this planet. Peter warns that judgement will begin with the church. The writer of Hebrews says, "'Vengeance is Mine, I will repay,' says the Lord. And again, 'The Lord will judge His people.' It is a fearful thing to fall into the hands of the living God. (Hebrews 10:30-31)
We squirm over this doctrine. Seeker-sensitive messages avoid or soften it, fearing that it makes Jesus unattractive.
But whether we like it or not, it's a reality we have to grapple with. God's judgement will come whether we agree with it or not. The only real issue is: are you ready for it?
After meditating on these passages further, I now find them a source of comfort and delight. They free me from miserable chains of self-centeredness, and stir my desire for God. Here's how:
God's wrath magnifies His love
If you swat a spider, I don't care, but if you abuse my child, I'm enraged. The difference is that my love for my child is so much greater than my love for the spider.
The greater the love, the greater the wrath toward that which destroys the object of that love. If you saw a father sitting serenely and smiling benignly while his daughter was sold into sex trafficking, how loving a dad would you assume him to be?
If God smiled benignly at the cruel injustices on earth – at the exploitation of little girls, and the abuse of little boys, at the corruption of the powerful that makes the weak suffer – how loving would He really be?
But scripture makes clear that God's great heart of love is stirred to white hot wrath at the injustices He sees.
However, God's wrath is not like ours. When we get angry, rage can blind us, leading us to wrong conclusions; our attempts at justice often lead to more injustices. But God's wrath is not a mere emotion subject to irrational forces. Instead, His wrath is driven by an unbreakable will, unclouded by faulty judgment or assumptions. He sees all things clearly, including heart motives.
God's love cannot rest apathetic. It will not stay silent forever. It is a coming tsunami that will break oppressors' chains and overthrow corrupt dictators and officials.
Knowledge of His wrath enables me to forgive and find peace in the chaos.
In the Sermon on the Mount, Jesus commands us "Not to resist an evil person, but to love our enemies and pray for those who spitefully use us."
Peter calls us to follow Jesus's example, "who, when He was reviled, did not revile in return; when He suffered, He did not threaten, but committed Himself to Him who judges righteously." (1 Peter 2:23)
Jesus committed Himself to "Him who judges righteously." Christians throughout the centuries have endured slander and persecution because they had a firm grasp of the coming judgement. They knew a day would be coming when every wrong would be made right and every lie and act of corruption exposed.
This knowledge gave them peace and removed the horrible burden of trying to clear their own names and fix the injustices of the world in their own strength.
Jesus said that if we do not forgive men their sins against us, then God will not forgive us.
A barrier to forgiving others is the belief that they are getting away with wrongdoing. We feel we are compromising justice to forgive an unrepentant person.
But the doctrine of coming judgement reminds us that nobody will get away with anything. Every cruel word and deed will be punished.
This knowledge helps us let go of the burden of unforgiveness and bitterness and leave vengeance to God.
As our culture has lost a sense of God's coming judgement, it has replaced it with growing agitation and rage toward those who disagree with us. Cancel culture replaces grace and forgiveness.
God makes clear, however, that the wrath of man does not produce the righteousness of God.
We can lead the charge of showing grace and compassion to our neighbour, because we trust God to deal with the injustices we are powerless to stop. God, who cannot lie, promises to repay.
God's wrath and judgement make me grateful for the cross of Jesus.
My awareness that every act of abuse and treachery will be punished is comforting when I think of the sins of others, but it makes me nervous about my turn to stand before a holy God. I know my own cruelty, gossip, and betrayals, not to mention the times I have rebelled against God with wilful acts of lust or greed.
When the perfect standard of justice is enacted, I am guilty and deserve banishment from God. This is why most of us hate the idea of coming judgement, because we know deep down that it will fall on us too.
Thankfully, while God hates all evil, He has a deep love for the sinner. He has made a way to execute perfect justice on the sin while saving the sinner.
He did this by becoming a human and taking our sin onto Himself and destroying it on the cross. God's wrath fell on Jesus and burned away the sins of all those who look to Jesus to be their Savior.
Jesus lived a perfect life and gives us the righteousness from His account.
Those who trust in Jesus have been declared perfectly righteous, and can enter the consuming fire of God's presence with joy and boldness.
Conclusion:
Because of the cross of Christ, we can rejoice in the coming judgement. We no longer need to shake with rage at corrupt politicians who make laws that oppress the poor and needy. We don't need to feel helpless about the lies of deceptive media, because the truth will be made known.
But we will not be helpless or apathetic in pursuing justice down here, either, because we also know that we will give an account someday for how we responded to the needs of those right in front of us.
Knowing God's wrath will not make us complacent, but it will enable us to be gentle and less stressed. We can give God our own anger that blinds us and ruins our health because we know His perfect anger will take care of things.
So come to the cross, give God your sinful heart and past transgressions. Rest in His passionate and ferocious love that will gradually, and ultimately, rescue this bleeding planet and restore it as a world of healed hearts and communities.