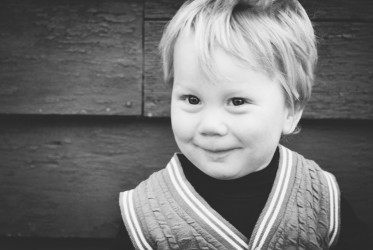 This year we decided that the head of this family should write the Christmas letter. So even though I am only 16 months old, I, Justin, accepted the job. Some of you may be thinking "16 months? What's he know – maybe 10 words? How interesting is that gonna be?" Well, let me tell you, I may be able to only speak a limited number of words right now, but in writing I have the vocabulary of a brilliant 33 year old. And as far as interesting goes, I'm too young to have inhibitions or know the difference between appropriate and inappropriate, so you should be entertained.
Let me start this letter by telling you about myself. My name is Justin Edwards and I am the youngest of 4 kids. Mommy and Dad just keep getting better and better at this kid-making thing as the quality has improved dramatically with each child (Sorry J-M, I got to be honest). I am a terribly busy man with big plans for this family, so be grateful I am finding time to write this.
I like to read, although most books are too simplistic for me and fail to hold my attention. I play an important job in this home as the chief safety inspector. It's very time consuming as it involves climbing every possible bench, stool, chair, couch, and ladder and being constantly on the lookout for sharp items, as well as testing choking hazards. This is NOT a safe house. I have fallen countless times and made numerous appeals that go ignored. Sure, they think they've got the stools and marbles hidden, but I find them.
It's also my job to inspect all the bags and containers that come into this house, such as purses and wallets. I'm a little suspicious my parents are doing something illegal because they keep pulling me away. Oh well, that's what quiet time is for.
Another serious duty I perform is making sure this family doesn't have more kids anytime soon. I'm not exactly sure how it works, but I keep a close eye on Daddy and Mommy and make sure they don't have any time alone. This requires a short nap in the evening, but then I'm good till they go sleep. I'd be completely successful if it wasn't for interfering aunties who take us away and leave Mommy and Daddy unprotected.
I'm not sure why they would want more kids, since I believe I am everything they could want in a child. I'm smart, cuddly, adorable, and for the most part have a sweet disposition. Enough about me (I can't believe I just wrote that…). Let me tell you about my older siblings. Continue reading…